One week, but a hundred days…that's how it has felt with all the NEW that has been coming my way. A new state, a new home, new friends, new people…
Global Frontier Missions
has been a whole new world for me, literally! This small town is packed with people from all over. We've met Somalis and Arabs, Nepali people and Ethiopians. I even met a lady from Iraq and a family from Bhutan. I step out my door and I'm stepping into the nations. How wonderful it is!
But it's also overwhelming. In class, we're being asked questions like, "what can we do to finish Jesus' command of fulfilling the Great Commission?" and "why do you think the evangelical church has lost its awareness of taking the gospel to every nation?" We are studying scriptures like Matthew 24:14, and Revelation 5:9, where we discover that Jesus' blood has been spent to purchase people from every tribe, nation, and tongue. And all the while I'm thinking… How have I been so blind? So distracted, so utterly lost to the singular truth that Jesus isn't coming back until the gospel has been spread to ALL the earth, and in order for that to happen, then someone needs to go/be sent to the remaining 7,414 people groups in our world who have NO access to the gospel. All this turning around inside of me and it's only the first week!
And then we went prayer walking. It was to one of the many apartment complexes here in Clarkston where most of the families living there are refugees who have fled their home countries unable to return. This is the same place where we will be doing further ministry over the next few months, and as I walked, as I prayed, my heart began to fill with the growing desire to share the gospel with them. I imagined how I could meet them where they are at, somehow crossing over the language barrier and cultural barrier. I asked the Lord for some kind of simple story or imagery that would speak to them, and He showed me this…
"The World is dark and the world is heavy…it closes in on me and I become dark and I become heavy. But then I looked up and saw a Light coming towards me, and as it drew near, I saw that it was not a light, but a Man. His face was shining like the Sun.
His light felt warm and I was cold. I reached out my hand toward the light because I wanted to feel it's warmth.
Then the Man, who was full of light, reached out and took my hand, and I grew warm. Light from Him came to me and flooded me. Now I am light, and I am filled with warmth, for I have tasted and seen and now know that He is Good."
It seems super simple maybe too simple, but I hope I get the chance to share it with someone soon. It's more than just the words though, or even the imagery. It was that as we spent time in prayer walking around the homes of the people we want to share the good news with, God was giving me a heart for them. And that's why I'm supposed to be here, so that God can lay His heart on top of mine until the rhythm they beat is the same.
Prayer Needs:
-Direction to step into the right things. There are so many opportunities here for hands-on ministry, but it is my desire to be sensitive to the Holy Spirt and His leading to get involved in the ministries and with the people that He would have me join.
-A heart to stay humble. I want so much to learn all that I can from the staff and teachers, but also from the people in the community who come from other cultures.
-Peace as I go. There are a lot of nerves among the students as we all feel a little out of our depth in different ways. My God favor us with the light of His face and the peace of His Holy Spirit!
In the love of Christ,
Emily Hamsher
Global Frontier Missions Student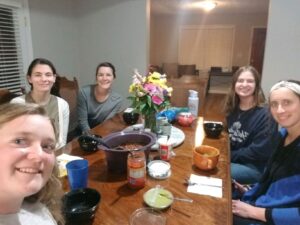 Also, here is a picture of my roommates and I! The community here has been such a huge blessing in helping me to transition. We all share a passion for Jesus and a heart to seek His will for our lives as He calls us to spread His good news.
***When God calls you to sow, your gift can be given as follows:***
Checks can be made out to Living Hope Church, who is officially sending me as their missionary. Or you can give support online at www.livinghope.life/give towards LHC Missions: Emily Hamsher. Thank you so much!